CRP Seed for Native Grass and Forbs
Establishing native grasses and forbs is one of the most popular options available in the Conservation Reserve Program. Not only does native perennial vegetation restore health to damaged soil, but it protects local water supplies, sequesters carbon, provides shelter to wildlife, and boosts the overall health of the surrounding ecosystem.
If you're in need of CRP grass seed, All Need Seed has you covered.
We make it simple for you to find the right seed based on state location, as well as the Conservation Practice you're enrolled in. Whether you're purchasing one of our NRCS compliant seed mixes or CRP seed mix developed by NRCS, you can trust you're getting the highest quality native grass and forb seed available.
Our CRP grass and forb seed is reprocessed for enhanced purity and superior germination. Additionally, we test our seed for all pigweed species including Palmer amaranth. Any CRP grass and forb seed purchased from All Native Seed includes the appropriate seed tags and paperwork required by the USDA, simplifying the reimbursement process.
To browse our native grass and forb seed offerings, click one of the buttons below.
Choosing Native Grass and Forb Seed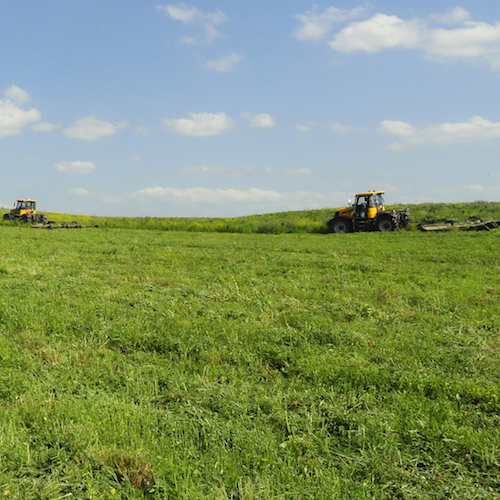 The types of seed available for CRP can vary depending on your location and the specific practice you're enrolled in. Regardless, you'll find you have a variety of options to choose from. For example, you'll have the choice between cool-season and warm-season grasses.
Cool-season grasses thrive in the spring and fall when soil and air temperatures are lower. Warm-seasons grasses, on the other hand, grow best in mid-summer.
Additionally, you'll need to decide on the seed mix you would like to purchase. At All Native Seed, we offer both our own NRCS compliant native grass and forb seed mixes, as well as CRP grass and forb seed mixes developed by the NRCS.
If you're not sure which type of seed mix is best for your needs, we're more than happy to help. We have over 350,000 acres of CRP experience across the US. We know the requirements and best practices of establishing native grass and forb seed. Feel free to call us at 888-224-2004 or email us at quote@allnativeseed.com.
Should you need help establishing native grass and forbs, our parent company FDCE can assist. FDCE offers full-service CRP solutions for contract holders including seed purchasing, planting, herbicide application, documentation, paperwork submission to FSA, and more. Click here to learn about FDCE.