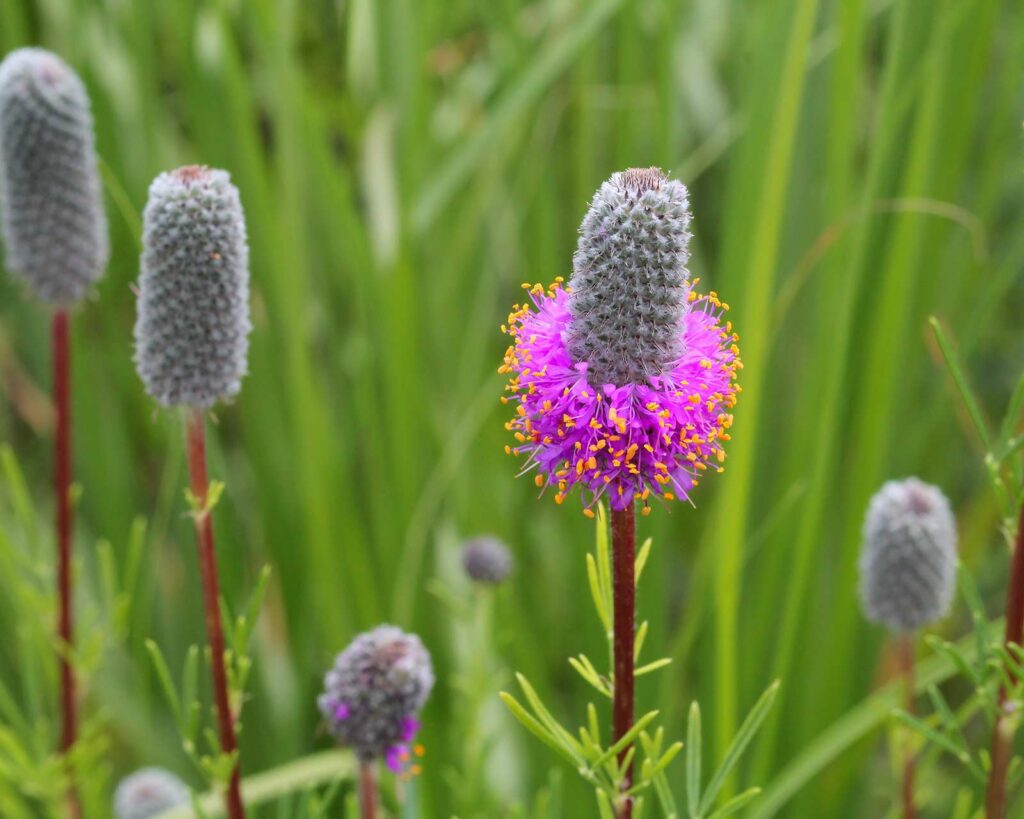 Known as a legume type of wildflower, Purple Prairie Clover is able to capture nitrogen from the air and uses its natural bacteria to fertilize the soil. The most widespread of the Prairie Clover, this plant is a favorite of pollinators including bees, butterflies and other insects.
This native clover is a key component of many native wildflower seed mixes. As a legume, it fills a special role in fixing nitrogen in the soil of the prairie. The delicately scented wildflowers are perfect for attracting native pollinators as well.
Plant characteristics
A perennial plant with alternating leaves and thimble like flowers also grows deep roots. The best time for blooms will be in summer. Purple Prairie Clover can grow to be one to two feet tall.
Growing conditions
Purple Prairie Clover is able to grow in the harshest conditions and thrives in sunny areas with dry soil and little water. This plant is highly resistant to drought and deer browsing.
Native area
The deep taproot supports a long-lived plant that is virtually impervious to heat and drought. Excellent in a variety of areas but specifically the Great Plains and prairie ecosystems.
Let us help
All Native Seed was established in response to a demand for native grass and forb seed used by our parent company FDC Enterprises. The same seed that FDCE has used to establish over 400,000 acres since 2003 is now available for purchase through ANS.
If you have any questions or need assistance in selecting your seed mix, don't hesitate to call us at 888-224-2004 or email us at quote@allnativeseed.com.